Economic, fast and high-precision qualification of surfaces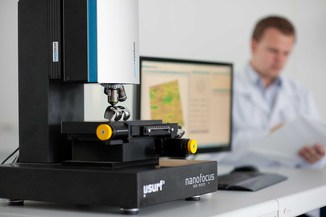 Source: NanoFocus AG
18.10.2012
In medical technology, a precise knowledge of the surface characteristics of components is indispensable. Surface structures in the micrometer and nanometer dimension on nearly all types of surfaces can be determined with the optical 3D measurement technology of NanoFocus. The measurement results make a decisive contribution to the development of new products, the optimization of production methods and to reliable quality assurance.
In March 2012, the µsurf-technology of NanoFocus was awarded the MEDTEC EMDT Innovations Awards for its contribution to innovations in medical technology. The excellent properties of the measurement systems gave rise to the award: fast measurement speed, high optical resolution as well as comprehensive measurement reports generated automatically by the NanoFocus measurement software. The flexible all-round solutions are profitable particularly in automated applications. Possible measurement tasks range from wear analyses of dental replica, roughness measurements of joint implants, form precision of blood sensors and microfluidic modules to the inspection of stents.
NanoFocus can be found at COMPAMED on the IVAM Product Market in Hall 8a/ Booth H23.3.
Contact: Claudia Delto, NanoFocus AG
delto@nanofocus.de