Miniaturized high-tech products capture medical technologies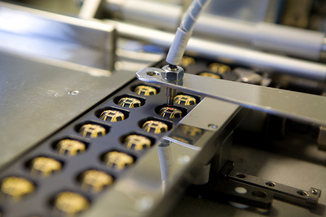 Source: HARTING Mitronics
Links
07.09.2012
Over the last decades miniaturized high-tech products have captured medical technologies. The significant progress in diagnostics and therapy in the last twenty years would not have been possible without miniaturization. Intelligent microtechnological solutions are used in drug delivery systems and measuring instruments or in surgical intervention.
On October 18, 2012 the established symposium ΣYSTEMS INTEGRATION is dedicated to the topic "Ideas for Products, Medical Technology Applications, Turn-key Solutions". This year's event will take place in cooperation with the enterprise HARTING AG at their company location in Biel (CH). The presentations will focus on the topics product development, manufacturing processes and qualification for medical technology as well as precision mechanics. The event addresses developers, manufacturers and users of micro-mechanical and micro-electrical products, components, systems and devices in medical technology and precision mechanics.
Companies from Switzerland, Germany and Austria such as SENSIRION AG, CSEM Centre Suisse d'Electronique et de Microtechnique SA, Jüke Systemtechnik GmbH, OPTIPRINT AG or Erdmann Design AG present current trends and innovations from different fields of medical technology. Topics which will be discussed at the symposium are for instance foundation and applications of flexible and rigid-flex printed circuits in medical technology, 3D-bioprinting, client-specific photonic systems for life-science applications and navigation systems for liver surgery. The centre of attention is to answer highly topical and complex questions of medical technology. The presentations will be held in German.
Participants who register until October 1, 2012, will benefit from privileged conditions. Further information and the possibility of registration can be found at
http://ivam.de/Systems12
.
Contact Ms. Orkide Karasu, IVAM
ok@ivam.de