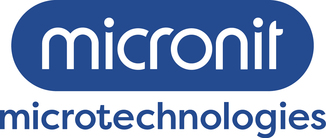 Micronit is known for its expertise in the manufacturing of components in the area of MEMS and microfluidics for your customised solutions. Our experts support you with their in-depth knowledge in the conception and fabrication of highly qualitative microchips adapted to your individual requirements. Micronit supports you with the following services, which can be chosen separately or in combination:
Personal expert advice and optimal implementation – through specialized expertise and years of experience.
Fabrication and project work to your exact requirements – with interdisciplinary technologies in our own clean room.
MEMS Foundry Service for individual chips in glass and silicon precisely according to your needs – flexible in the quantity you require.
The World around the chip – we complete your solutions professionally with embedded auxiliaries.
Services
Technolgies:
DRIE
Wet etching
Bonding
Powder Blasting
CVD
Thinfilm PVD
Lithography
Backend Processes, etc.