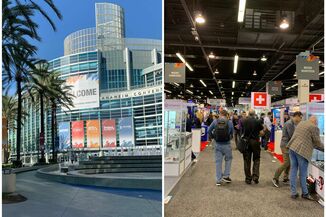 International companies took the opportunity to show their innovations in the special exhibition area "Micro Nanotech".
Source: IVAM
26.02.2020
The medical technology trade fair MD&M West in Anaheim, California, is one of the world's largest exhibitions in the field of design and manufacturing of medical technology products.
Around 20,000 visitors come to California every year in February to find out about new trends of the medtech industry.  
Micro Nanotech area showed high-tech microelectronics and microfluidics innovations
For the seventh time in a row, the joint booth of the IVAM Microtechnology Network was highlighted as special exhibition area "Micro Nanotech" and brought together international high-tech component manufacturers. Both, companies and research institutes took the opportunity to show their products and services to an international audience.  
The spectrum of products presented ranged from neuro implants, 3D printing, high-end chip-level and RFID technologies, micro injection molding solutions and biochips to intelligent, polymer-based consumables. Micro sensors and high-precision micro pumps that convey liquids, gases and mixtures were also among the highlights of the IVAM joint area, as well as wafer-level optics products.  
Good business opportunities – despite coronavirus
The MD&M West 2020 was successful for the international component manufacturers. Almost all companies on the joint area were very satisfied with the contacts they made on site. "Even though it was noticeable in the number of visitors that the Chinese trade fair visitors were not so strongly represented this year, the talks at the booths were very successful", reports IVAM Managing Director Dr. Thomas Dietrich. "The quality of the leads was so good that exhibiting companies decided directly on site to come back to Anaheim again in 2021 and booked a stand".  
IVAM has already reserved space for the joint stand for 2021. Information on participation opportunities can be found on the IVAM website at
https://www.ivam.de/events/md_m_west_2021
.