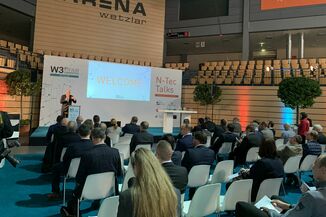 14.04.2021
After two successful joint appearances of the special exhibition area "Microtechnologies for Optical Devices" at the W3 Fair+Convention, the IVAM Association for Microtechnology will again be present with a joint area at the network trade fair for optics, electronics and mechanics and demonstrate the potential applications of microtechnologies for optics and photonics.
Optical topics are becoming increasingly important in microtechnology
Within microtechnologies, there are currently significant advances through optical technologies. For this reason, it is becoming increasingly important to link developers, researchers and manufacturers of miniaturized components. The unique exhibition area "Microtechnologies for Optical Devices" offers the chance to do so. IVAM exhibitors will also benefit from comprehensive service, marketing and networking offers.
At the trade fair accompanying forum "N-tec Talks", exhibitors will also have the opportunity to share their know-how in various fields of application. Interested companies can still register for a trade show appearance in April at an advantageous price.