Jan. 30, 2019
In an interview with the German high-tech magazine »inno« he explained what German high-tech SMEs need to consider with regard to their internationalization strategy and where he sees the greatest potential for future economic success abroad. 
Which foreign markets are particularly attractive for German high-tech companies and why?
The German industry, and especially the high-tech sector, has always been very export-oriented. These products can only be sold in markets that are similar to the German market. Therefore, besides Europe, the American and Japanese market are also very interesting. Not only German products are bought there, but also partnerships to develop new products play an important role. 

In addition, there are emerging economies just now wanting to adapt their healthcare system to the demands of their increasingly prosperous society. These countries want to use the latest technologies and are therefore a fast-growing market for German products. A typical example of this is the ASEAN market, where governments are investing heavily in a new high-performance healthcare system. 
Which partners are needed by high-tech SMEs looking for international market entry? 
Particularly SMEs are barely able to set up and maintain a large sales network with their own branches or even production facilities all over the world. For medical devices licensing and approval procedures are additional challenges. Therefore it's very important to find suitable partners. 

Partnerships between similar companies from both partner countries have proven to be successful: Everybody knows their country, their market and their authorities.

Together they can look after the products of each other in their own country. For this purpose, IVAM has built up partnerships with national associations and networks in all relevant countries. These help to find suitable partners, to organize business matching events and to conduct business trips. 
 
What are the special challenges in the field of medical technology, especially in international markets?
Human health is a high good and it is protected worldwide by special regulations. Unfortunately, almost every country has its own rules, regulations and laws. Harmonizing this is a major concern not only for companies and their associations, but also supported by governments and organizations such as the World Trade Organization (WTO). 

Initial approaches already exist within the framework of free trade agreements. Unfortunately, the exact regulatory requirements are often excluded from these free trade agreements. For example, the free trade agreement between the EU and Japan will bring some relief. 

However, it is still not possible to sell a product approved in Europe directly in Japan. Especially in Japan, the Fukushima Medical Device Development Support Center offers a way to get all the necessary test procedures from a single source, including advice on Japanese government regulations. It looks similar in other countries.
What should a strategic decision-making look like for specific target markets? Who is able to offer orientation and support?
At first, you need a really good product, preferably one which is already successful in the domestic market. When deciding on a specific country, you should take a closer look at the general conditions. How similar is the population structure, the health system, the legal system - among other things - to the European conditions? How big is the market? Are there any competitors? How long and time consuming are registration procedures? Information can be obtained from the chambers of commerce and competent foreign trade organizations. If the answer to all of these questions is "yes", it makes sense to take a closer look at the country. 

It would be a good idea to visit specialized exhibitions to present and explain the product to local experts there. IVAM offers exhibition participation in China, Japan, Singapore, USA and Europe. This includes thoroughly prepared company visits and B2B meetings at the trade fairs. Thus, the necessary information can be procured and suitable local partners can be found.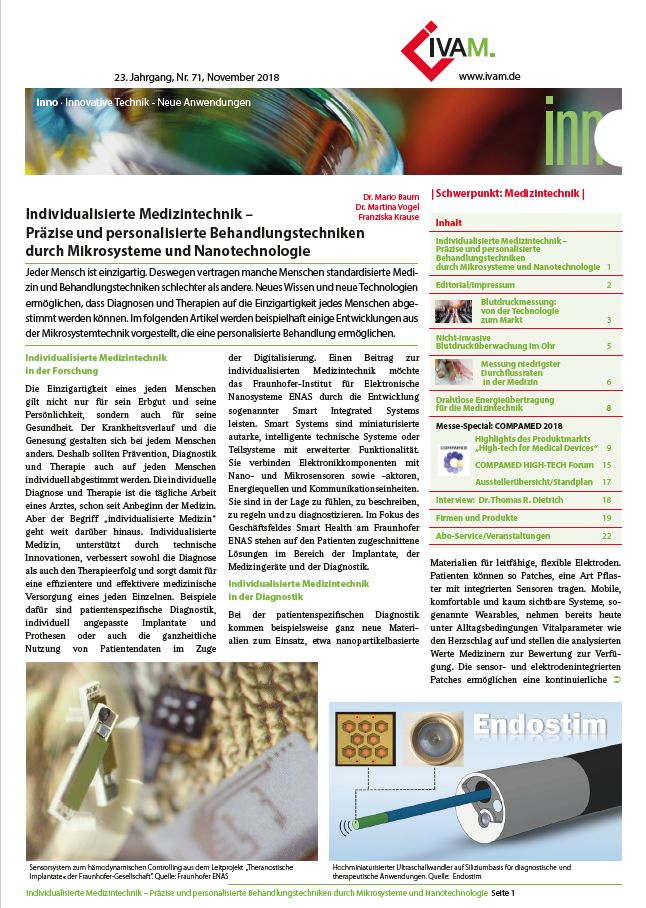 From »inno« 71: https://www.ivam.de/news/inno/inno_71 (German)