Aug. 4, 2021
Mobile work in pre-pandemic times
Remote working from home, in Europe often called "home office", is probably the most typical example of the development towards a digital working world. Before the pandemic, in 2019, there were still increased concerns about working from home.
A 2019 study by bitcom, the German digital association, shows that only four out of 10 companies relied on home offices, and 60% of employers did not consider "Home Office" possible or practical at the time. 
The most commonly cited reasons were:
Remote work is not possible for all employees; no one should be treated unequally. (65%)
Without direct exchange with colleagues, productivity decreases. (58%)
Remote work is generally not planned. (55%)
Employees are not approachable at all times. (33%)
Working time cannot be controlled. (29%).
Legal regulations on occupational safety speak against home office. (27%)
Data security (22%)
technical equipment is too expensive (16%)
Fear of a decline in employee identification with the company (9%).
A view into the office 2021
Remote work has established itself as a good way for employees in 2020 to get work done in peace and concentration. Team members, in particular, have now not only become accustomed to it but also see the great advantages in working this way. However, there are still major concerns among the respective supervisors: They can no longer directly control whether the team is really working as well!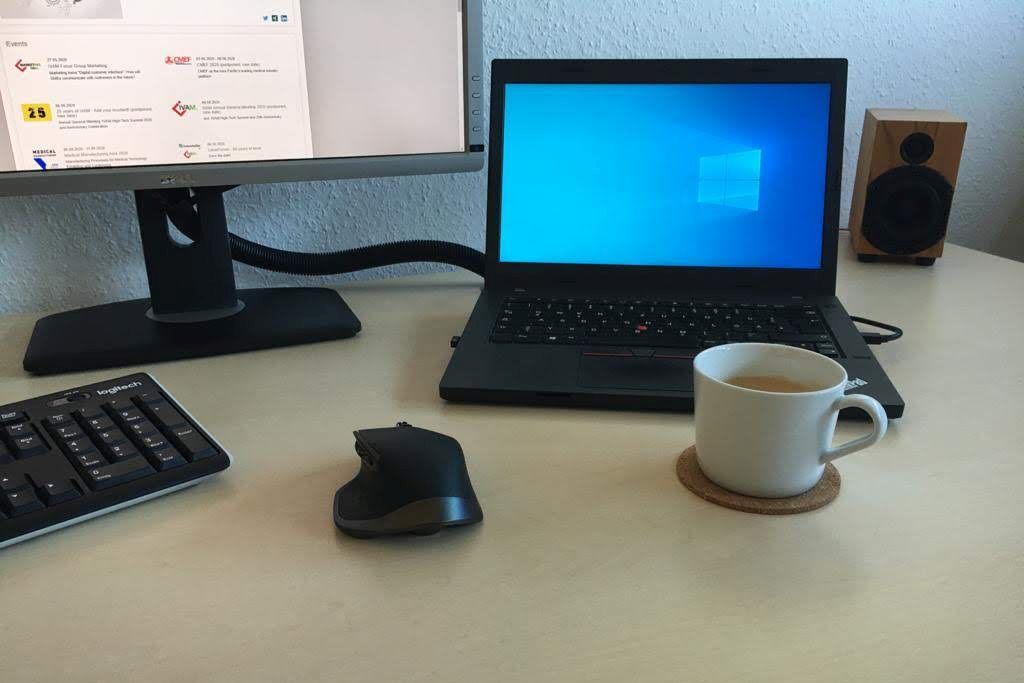 Even if this is actually no longer up-to-date, many superiors still "control" the working hours instead of the work performance. Of course, it is also much more difficult to estimate the time required for tasks, to instruct employees, to assess quality when you no longer have the workforce sitting in the neighboring office - a good topic for further training measures for supervisors! 
So the Corona crisis has now "forced" companies to address the issue and to support and test working at home, at least in the "lockdown phases." Many of the original concerns have been dispelled: 
Colleagues can now be reached easily via web conferences and in-house chat systems. The necessary technical equipment, including data protection, has not proved to be a major problem. Work is no longer controlled by working hours, but by the work performed.
I take a critical view of the following point: creativity and joint projects require direct contact with colleagues; a general, informal exchange of ideas no longer takes place. This cannot be compensated by web meetings either, since ideas come spontaneously and spontaneous feedback is required.
It has not yet been adequately researched how identification with work and the company will develop if employees are rarely on the business premises. Friendships between colleagues, which can be important for the working atmosphere, will be difficult to establish in this way.
A short study by the Fraunhofer Institute for Industrial Engineering IAO describes precisely the advantages and disadvantages of working from home. The bottom line, however, is that the respondents to the study believe that the advantages outweigh the disadvantages and that the use of home office work will continue after Corona and even be expanded at more than 40% of the companies. 
What remains of the current situation "after Corona"?
I am convinced that the "mobile working" form of work has become well established under Corona and will continue to be integrated into work processes thereafter. 
Companies have now learned the pros and cons of working from home and are very good at deciding for themselves what works best for the company. There is no need for legislation to do this. Even more important than working in the employer's office is data security. Employees must be given some rules that must be followed at all costs.
Mobile working also has another effect: the digitalization of all previously paper-based processes is required. Since it is not even possible to quickly go to a colleague's filing cabinet, all documents must be available electronically. Digital signatures can now be used without any problems. Employees have to get used to these new realities and adapt their work processes accordingly.
This is just as true for customer contact. Letters and faxes no longer fit in with digital work processes. A changeover in customer communication is required. And if you're going to do that, it's best to do it right away with the latest tools for digital customer care and digital marketing, e.g., via digital customer interfaces such as social media. 
What does home office mean for the personnel marketing of SMEs?
SMEs have numerous disadvantages compared to large companies when it comes to recruiting new employees. But by offering flexible working hours and locations, e.g. establishing mobile working as a fixed part of the job, the opportunity is opened up to also be attractive to prospective employees who live further away and cannot or do not want to relocate. Job interviews can also be implemented professionally and easily via video conferencing tools.
Team members who need flexible working hours due to their personal situation (e.g. single parents) can benefit from remote work to better organize their working day and react to unforeseen circumstances without work having to suffer. This is where SMEs in particular can demonstrate their flexibility and thus attract more talent to their own company. SMEs have the long-term advantage of being able to act quickly and avoiding red tape and benefit from the fact that flat hierarchies and manageable team sizes are easier to organize.
Remote work forever!? What will happen to our offices after Corona?
It has therefore become clear that mobile working can be organized and leads to good work results. The necessary technologies are available and the fear of Internet connection failures or concerns about IT security have receded into the background. Even after the pandemic, there will therefore continue to be regular home offices. 
Conversely, of course, this means that fewer office workplaces may become necessary. New concepts must be considered to make better use of the available resources, e.g., no longer providing fixed workstations, but instead making individual and flexible arrangements to work at the desk that is currently free.
Those who come to the office in the future will probably do so mainly to interact with colleagues, discuss joint projects, coordinate work topics, or meet external partners. This means that larger rooms for meetings, lounges for open exchange, conference rooms for external meetings, etc. will now become more important than the usual one-person offices. One should consider how to redesign the offices to achieve more intensive communication for the employees present. 
We at IVAM have also gained initial experience and are in the process of sustainably converting our work processes, our member and customer support, and also our offerings to digital formats. After Corona, mobile work will continue to play a larger role than we would have thought possible a year ago.
It's all a lot of work and requires thorough strategic planning to make one's company fit for the future. But this is one of the opportunities that arise from the crisis. Now is the time to implement this change with all due consistency.
Do you also already have experience or ideas? Do you doubt the feasibility or have you had bad experiences as a technology SME? Then please feel free to contact me!
Image source: Pixabay