Jan. 6, 2020
Even minor mistakes in preparation can have a massive negative impact on success. Play it safe and rely on local partners such as distributors or international associations.
     
For the seventh year in a row, we have been organizing a joint booth at the MD&M West medical technology trade fair in the USA. In constant contact with our members and exhibitors, a number of topics are a constant source of discussion.
At this point I would like to share some experiences with you for a successful trade fair in Anaheim. 
1. Good preparation pays off
It is advisable to prepare your trade fair appearance in the USA very carefully. This way unplanned costs can be minimized. 
Anyone wishing to show exhibits at the trade fair should get to grips with shipping and customs clearance at an early stage. Unfortunately we hear from time to time about cases in which the sales department is at the fair without products because something "got stuck in customs". 
Especially B2B products and components that are difficult to explain can sometimes lead to delays in customs clearance, as it is more time-consuming for customs officials to check what kind of exhibits are involved. It is therefore particularly important to get everything underway at an early stage. Then nothing stands in the way of a successful product presentation. 
Of course, you should also ensure that you have ordered and paid for all necessary items in good time in order to avoid high costs for spontaneous additional changes.  
In the USA, it is also very common to arrange fixed appointments in advance for discussions at trade fairs. You should therefore inform your potential customers about your trade fair presence in good time and invite them to your stand.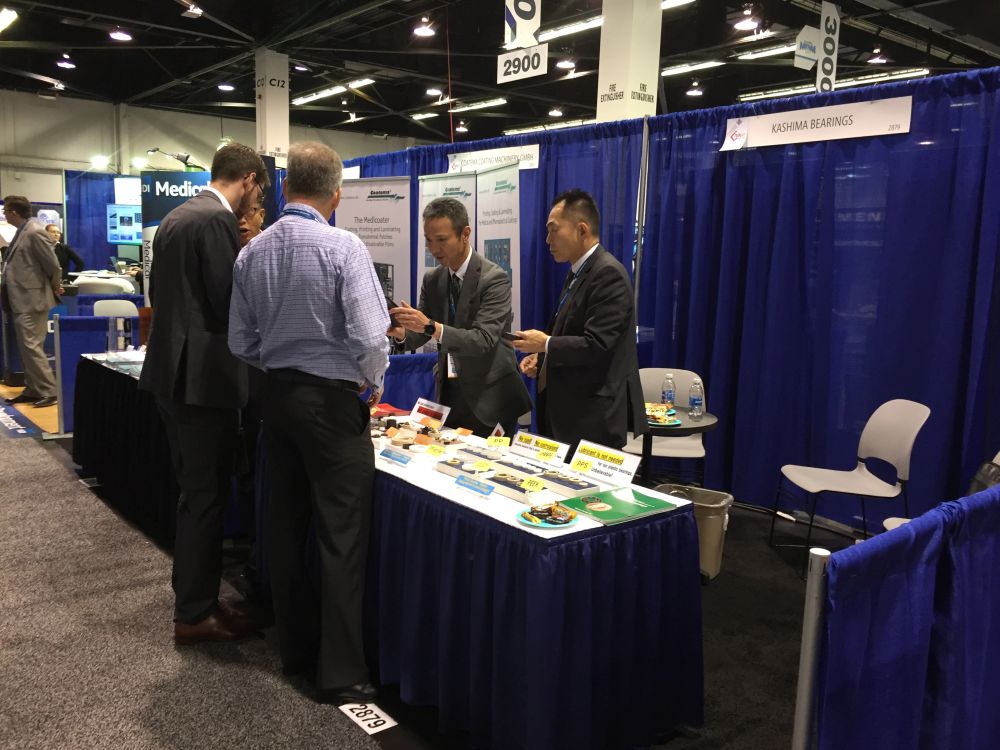 2. Exhibiting in the USA? Better together than alone!
Compared to the European price level, stand space can appear quite expensive, especially at highly frequented american trade fairs. In addition, many exhibition organizer work with a so-called "points system". The exhibiting companies collect points year after year by re-booking stand space and can thus move up to the more popular positions in the halls. For small and medium-sized companies, it is therefore hardly possible as individual exhibitors to get an attractive hall position directly at the first trade fair participation.  
Our community area for example, the special area "Micro Nanotech", is located in an area with good visibility in one of the upper halls at MD&M West. For a comparably good position, a single exhibitor would have to exhibit alone for several years in a row.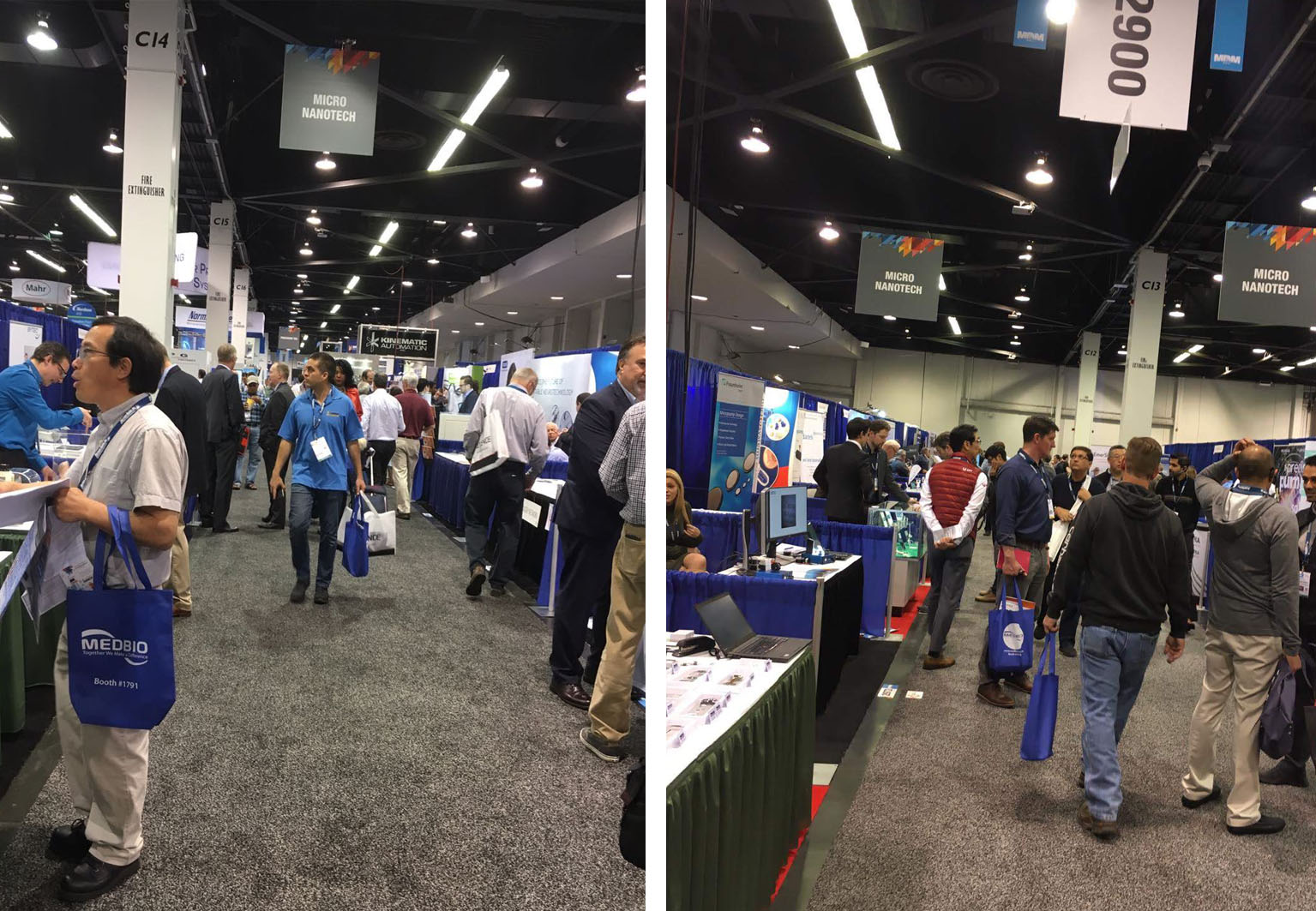 3. Stand construction in the USA: The US standard
In the USA it is not that easy to organize a cost-effective stand construction. The standard stand construction at MD&M West and many other US trade fairs, for example, consists of blue curtains to the rear and to the side.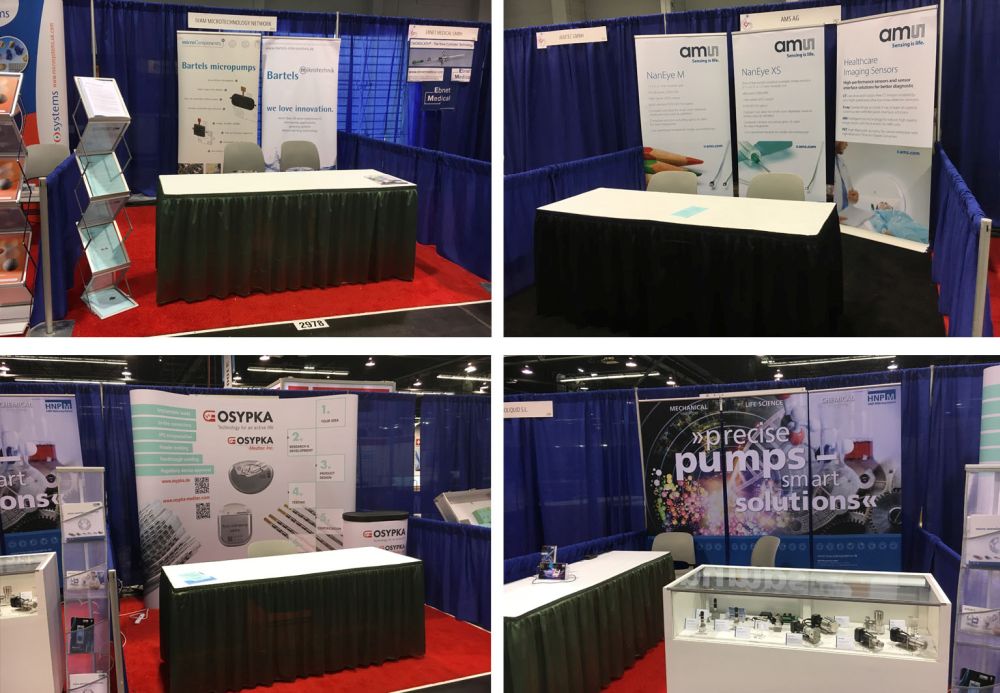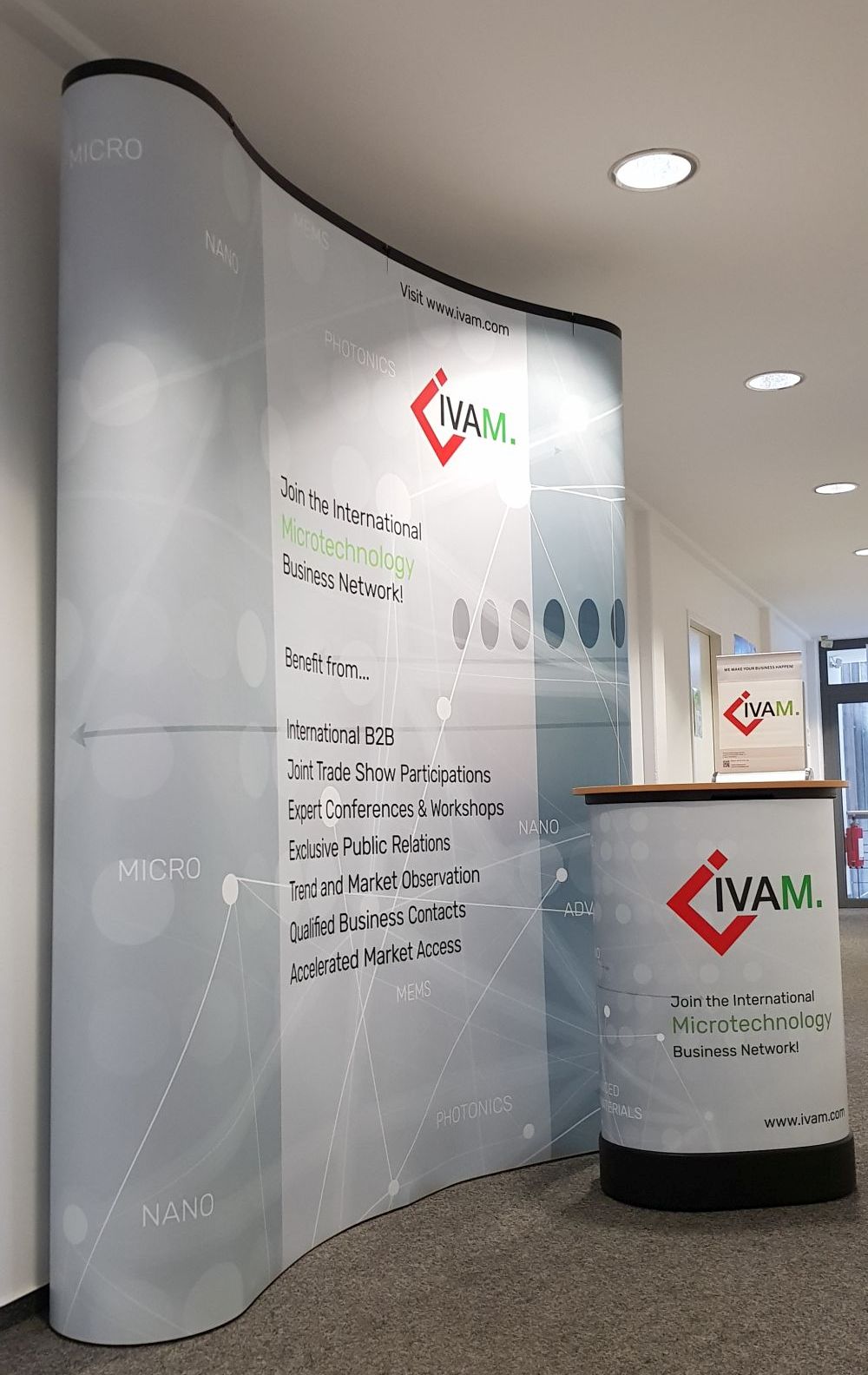 It is advisable not to use posters and the like for this type of stand construction, as there is no satisfactory way of attaching them. 
Many exhibitors react by bringing their own quick-build walls, so-called transportable exhibition sets, with them. These walls are no longer expensive, easy to transport and erect.  
A combination of several roll-up displays is also well suited for American trade fair appearances.

4. How to turn your trade fair stand discussions into successful leads
In Europe and Asia, business cards are often handed over personally at trade fairs and conferences. In the USA, on the other hand, scanners are common which directly process all necessary contact data via the contact's registration badge. This so-called "lead retrieval tools" can be rented from the trade fair organizers for the duration of the event. Some organizers also provide an app for scanning, e.g. using a QR code via the smartphone.
Also make sure that the small talk at the trade fair stand or during evening networking is typically American: Don't be stingy with niceties or compliments and don't be afraid to use common small-talk phrases. 
This will not be considered as uncreative or unimaginative, but expresses courtesy and appreciation. In addition to the weather, suitable topics include food, sports events and words of praise for the children and family of the person you are talking to.  
However, you should be careful with criticism or relativization. Northern European customs quickly appear very harsh here. Be diplomatic and only express criticism as a tiny note after detailed praise in advance. Also bear in mind that criticism is also packaged politely towards you and do not overhear any signals.  
Nevertheless, good networking - even after the trade fair has closed - is essential for successful deepening of trade fair contacts. For this reason, IVAM regularly organizes networking events around trade fairs - in some cases with partners - such as a get-together dinner or a beer after the end of the fair.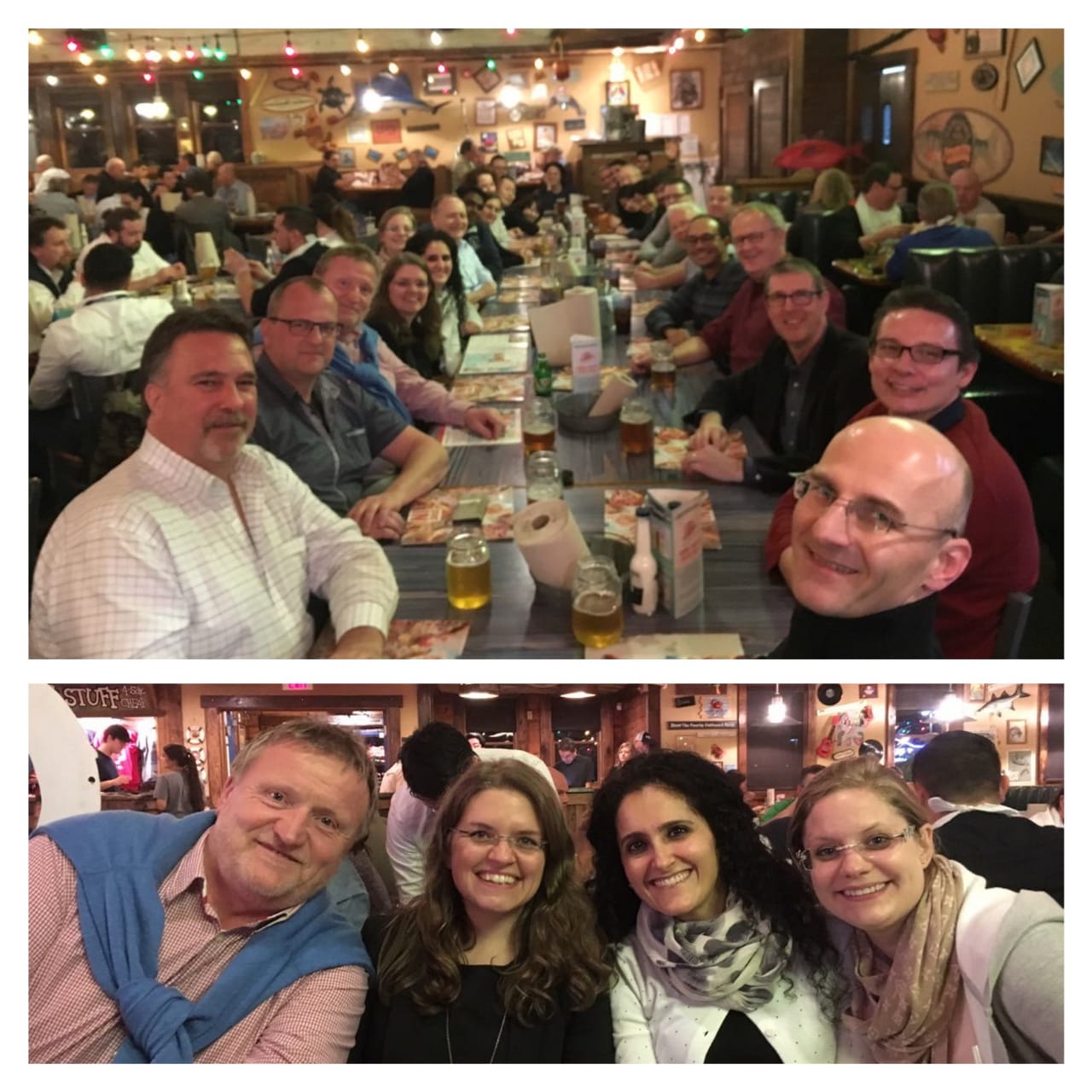 5. Mobility: Get from A to B without complications
Depending on which city in the USA you visit as a trade fair exhibitor, the best mobility routes differ slightly. One possibility, for example, to get from the airport to the exhibition grounds easily and comfortably are shuttle services, like for example the Super Shuttle. 
6. Daily needs, food and fast food restaurants
Opening hours in the USA are not regulated by law. The customers and their buying behavior have a significant influence on the opening hours: Opening hours are longer at tourist locations or in metropolises, where some shops are open around the clock. Shopping is also possible on Sundays. Exceptions are actually only the holidays Thanksgiving and Christmas - then almost all shops in the USA are closed. 
Fast food is common and cheap locally. The service is often fast and good, so fast food restaurants offer a good option for business travelers to find something to eat quickly. Many of them also offer a reasonably priced breakfast.   
As in many places in Europe, American drugstores do not only offer cosmetics, health and care products. The range also includes sweets, snacks, drinks and in many places even fresh food. 
In Anaheim, for example, there are also a lot of convenience stores that are easy to reach and have everything you need for your daily needs. Basically these "mini-shops" are very popular and often found on tourist routes. The price level is somewhat higher than in supermarkets, the assortment - due to the small areas - manageable, but completely sufficient for travelers. 
7. ESTA - Your permission to enter the country 
The "Electronic System for Travel Authorization" is an electronic travel authorization system of the US Department of Homeland Security. However, the authorization only covers travelling to the USA, not entering. An official of the American customs and border control authority decides on arrival whether the entry is finally approved. Travellers with a valid visa and US citizens do not require ESTA approval. (Source: Wikipedia)
As soon as you know your exact arrival dates, you can fill out and send the ESTA form 6-8 weeks in advance individually for yourself and all accompanying colleagues. Basically, an ESTA application 6-8 weeks before entry is optimal. However, ESTA must be applied for at least 72 hours before departure.
8. Super Bowl is a mega event!
As mentioned earlier, sport is a popular small talk topic in the USA. Large sporting events achieve large audience reach and are often celebrated extensively in front of TV screens.
The MD&M West at the beginning of the year often takes place during the period when the final of the popular American Super Bowl takes place. Take the opportunity and let yourself be infected by the enthusiasm of the sports fans for this mega-event. Then it won't take you long to find a current small talk topic.  
9. Disneyland - Come and visit Mickey Mouse
Even if you are not a roller coaster adrenaline junkie: The world famous Disneyland amusement park is located in the immediate vicinity of the Anaheim exhibition center and it can be really fun to spend some hours there with cartoon characters, candy and rides. 
10. Los Angeles: Hollywood Hills, Santa Monica Pier, Walk of Fame, Beverly Hills or Malibu? What have you always wanted to see?
If you are in Anaheim on business, you should take the opportunity to visit the famous neighboring city of Los Angeles. But be careful! Since LA is really big - it is the second largest city in the United States after New York City - it is really advisable to prepare your visit well and to think about what you really would like to see. 
There is no central "downtown" and all the tourist attractions are scattered in different districts of Los Angeles. It is thereby recommended to take a rental car or book a guided tour. Also remember to bring comfortable shoes and sufficient sun protection. 

Some great impressions and ideas for a visit can be seen in this video.
We are already working very hard on the preparations for this year's MD&M West. 
With a share of around 30% of the world market, North America is currently the largest market for medical devices and components. With approx. 20,000 visitors, the MD&M West exhibition in Anaheim, California, is one of the world's largest marketplaces for design and manufacturing in medical technology. 2020 the gates of the Anaheim Convention Center will be open to the world of medical technology from February 11 to 13, 2020.
These exhibitors will be on site with IVAM in Anaheim: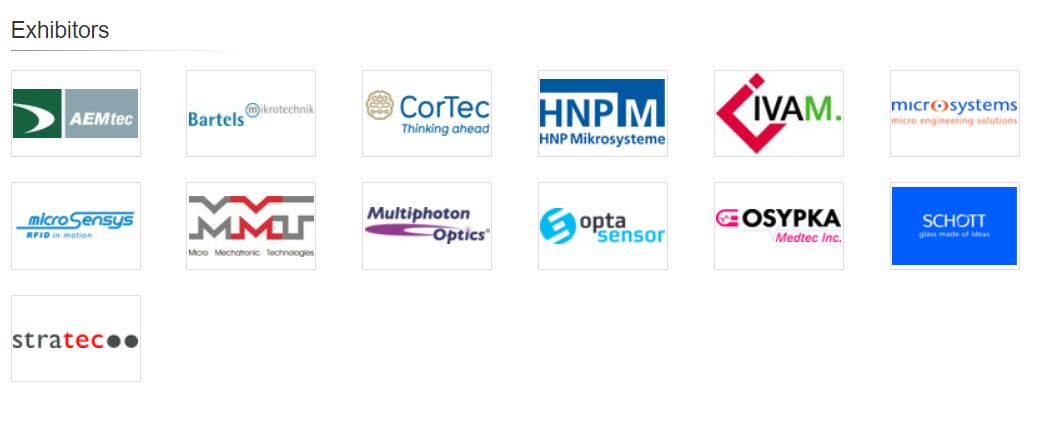 Are you also active in the medical technology sector and would like to focus more strongly on the US market in the future?  
Or have you already gained your first experiences and would like to exchange ideas with like-minded companies? Please feel free to contact us! We would be happy to examine how we can support your business in the international medical technology market.