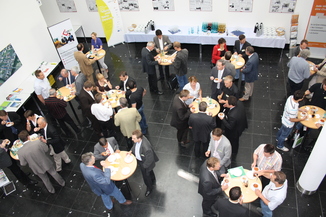 Conferences and forums
 
The COMPAMED HIGH-TECH Forum offers insight into research and development of the processes and products exhibited at the COMPAMED trade show, explains technology trends and provides information on relevant foreign markets for medical technology.
COMPAMED Innovation Forum
The COMPAMED Innovation Forum (formerly COMPAMED Spring Convention) is the annual expert meeting for developers, producers and users in the field of medical practice. Taking place in spring-time or summer, the forum provides an outlook on COMPAMED, Europe's largest fair for suppliers of medical manufacturing, which takes place in Düsseldorf every autumn.
The LaserForum regularly and comprehensively addresses selected questions, problems and trends in the application of laser technology along the entire value chain. The Forum offers a platform for discussion and exchange of ideas among experts. 
The conference series SYSTEMS INTEGRATION provides an opportunity for manufacturers and users to share intelligent applications of microtechnology and MEMS solutions. The emphasis is on the integration of different processes and products into systems.
The MSTextiles Forum examines the topics intelligent textiles, wearable sensor technology and wearables. The aim of the event is to bring together experts from microtechnology and textile technology in order to initiate cooperation and joint projects. 
The IVAM Hightech Summit brings together the leading experts from the high-tech field to tackle current challenges and discuss trailblazing solutions. The Hightech Summit addresses urgent cross-cutting issues and disruptive trends like digitalization.