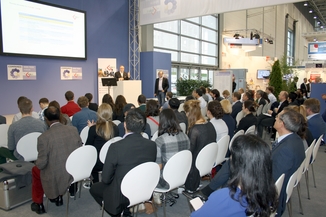 We have the specialized technical knowledge.
We know the industry and the experts.
We know the markets and the clients.
We are experts on event management, marketing and public relations.
With this mixture of technical background, industry knowledge, market knowledge and methodological skills, IVAM organizes a diverse range of events in the form of joint pavilions at international trade shows, trade show presentation forums, conferences, workshops, B2B events and networking events.
For our members and industry experts these events offer an opportunity for effective marketing by introducing their innovations, products and expertise to their potential clients, a broad audience or selected business partners.
Participants will be one step ahead, because our events put future trends into focus and portray technological innovation at the cutting edge. 
Also valuable, industry-specific novelties in the fields of certification, patent law, foreign business or human resources development are regular topics of our workshops. 
IVAM members
benefit even more from discounted participation fees for our events.