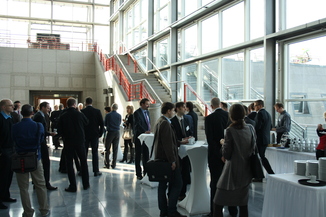 The IVAM general meeting 2014 saw the founding of the first focus groups.
Source: IVAM
The aim of the IVAM Focus Groups is to enable networking to exchange experience and find the right partner. The focus groups are to provide a platform for IVAM's members (and interested third parties) to share their experience on current events and activities as well as facilitate coordination of joint activities.
On top of this, they are set to directly influence IVAM's activities through their work:
Which topics should be addressed in our market research?
At which trade shows should we organize a joint pavilion?
In which fields should IVAM assert its political influence?
Further Focus Groups are planned for the future. Possible topics to discuss are e.g. Human Ressources, Industry 4.0, Lasertechnology, Financing of SME or others. If you are interested in one of these groups or if you would like to propose another topic, please contact Dr. Thomas R. Dietrich (info@ivam.de)