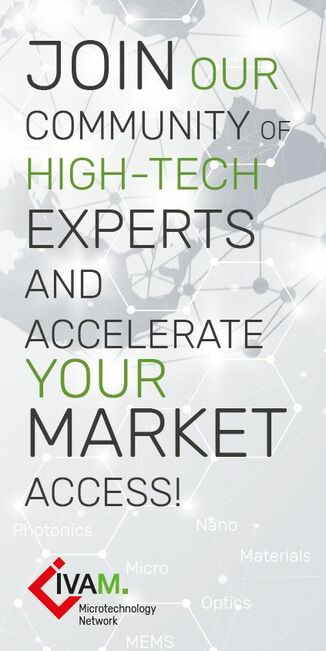 We facilitate your access to international markets.
We connect you with your customers and partners.
We increase your visibility within the industry and in the public.
We give you a head start with exclusive market and industry information.

Your benefits:
Market access
Exhibition options on supply markets at international trade shows
Development and expansion of foreign business through delegation trips and company visits
Organized business meetings
Business contacts
Presentation options at trade conferences and forums
Targeted matchings at B2B events
Indirect access to thousands of qualified contacts in the IVAM database
Networking
Exchange in focus groups and at network events
Support in finding highly specialized technology suppliers
Support in finding project partners
Visibility
Company profile on our digital marketplace
Improved search engine ranking
Exclusive use of our publications for the distribution of new products, application reports and company news
Publication of vacancies in our job portal
Orientation
Trend and market observation
Exclusive industry information
International markets and market development strategies
Influence
Influence on decision makers in politics, government bodies or committees through representation of interests
Active participation through voting rights in the general meeting
Co-determination through participation in member surveys or personal feedback
Who can become a member, how to proceed and how much does it cost?
 
Companies, institutes, corporations, individual persons, students and associations that are involved in microtechnology, nanotechnology, MEMS, advanced materials, micro-optics or photonics, sensor or measurement technology, organic or printed electronics or related key enabling technologies can become members.
An application form, the rules governing fees and articles of association are available in the download section. 
We are happy to explain to you in a personal conversation how you or your organization can best benefit from a membership. Feel free to contact us - via chat, e-mail to membership@ivam.com or phone. 
As a member, you will receive a member profile on our website. We explain more about this in the following video: 
We also offer the possibility of a trial membership lasting at least three months. For more information contact Mrs. Sandra Hinse via mail or phone.
 
Membership fee calculator