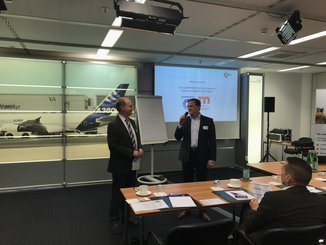 Christian Bigge (Messe Duesseldorf) on the right-hand side and Dr. Thomas Dietrich open the 12th COMPAMED Spring Convention
Source: IVAM
25.05.2018
The 12
th
COMPAMED Spring Convention on May 3 in Frankfurt focused on biocompatibility of implants and gave new perspectives in medical technology. 45 selected international participants used the conference not only as an opportunity to get an outlook on this year's COMPAMED, but also to meet again and develop business contacts.  
The four sessions of the conference concerning the topics "Technologies for the Production of Implants", "Packaging for Implants", "Materials for Medical Implants", and "Microtechnology in Medical Applications" especially focused on biocompatibility. The talks were about coating processes such as Parylene coating, which is able to make any material biocompatible. SCS took up the topic manufacturing processes and advantages of Parylene while Comelec showed further development through combination in multilayer systems with other materials.  
In the field of electronic packaging, biocompatibility is generated by packaging critical components in casing (e.g. made of glass). The Fraunhofer IFAM also shed light on the opposite: bio-resorption instead of biocompatibility. In this process, materials of implants are supposed to dissolve in the body in the course of time. Electronic components are an essential part of active implants, as Microdul has demonstrated using components for cochlear implants.  
The COMPAMED Spring Convention has been organized by the IVAM Microtechnology Network and supported by Messe Düsseldorf once a year since 2007. Since 2017, the conference has been held in English. The forum gives a preview of the COMPAMED trade fair in November. There, exhibitors will revert to the important topic of implants in medical technology on the Product Market "High-tech for Medical Devices" and the accompanying "COMPAMED HIGH-TECH FORUM".   
In its 12
th­
year, the COMPAMED Spring Convention was attended by interested experts, speakers and journalists from Austria, France, Germany, Italy, Spain, Sweden, Switzerland and the USA.