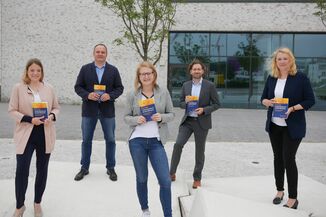 from left: Sabine Hintz (Raith), Prof. Uwe Kleinkes (HSHL)UK, Sarah Trompetter (FRT), Mathias Kukla (Elmos Semiconductor), Mona Okroy-Hellweg (IVAM).
Source: HSHL
16.09.2020
Prof. Dr. Uwe Kleinkes, head of "Technical Management and Marketing" at the University of Applied Sciences Hamm-Lippstadt (HSHL) and member of the IVAM advisory board, has published the German book "Content Marketing für den Mittelstand - Mehr Sichtbarkeit im Markt" by SpringerGabler-Verlag. It deals with the challenge for small and medium-sized enterprises (SMEs) to become visible to new customers on the Internet. Due to the flood of information and advertising caused by digitalization, this is a difficult but vital task for companies to survive in the market. Prof. Kleinkes examines the possibilities and significance of content marketing in his book, in order to help small and medium-sized businesses to profit from this forward-looking method.
IVAM members Raith GmbH, FRT GmbH, ELMOS Semiconductor SE and IVAM are co-authors
In the book, industry partners have described their everyday work with the topic of content marketing. The co-authors Sabine Hintz from Raith, Sarah Trompetter from FRT GmbH and Mona Okroy-Hellweg from IVAM Fachverband für Mikrotechnik and the co-author Mathias Kukla from ELMOS Semiconductor show by means of current practical examples how creatively small and medium-sized businesses make themselves seen in the market.
Prof. Kleinkes himself has experience in content marketing for about 300 medium-sized high-tech companies and institutes. The topic also drives him into research and teaching, for example it is part of his lectures. In addition, the HSHL knowledge transfer to the economy takes place via the Academy for scientific further education: In November, a seminar on "Content Marketing" will start for working people.
Contact: Hochschule Hamm-Lippstadt (HSHL)
info@hshl.de