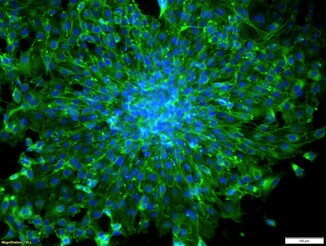 Actin stained 3T3 fibroblast spheroid for LIFT transfer cultured in laser fabricated micro wells.
Source: Fraunhofer ILT, Aachen, Germany.
17.05.2022
To produce cell cultures, a laboratory must follow many different steps in which the cells are grown and examined. Indeed, cell cultivation is very time-consuming and error-prone owing to the manual work involved in conventional processes. In the joint project "Liftoscope", Fraunhofer ILT is working with the Fraunhofer IPT to develop a gentle, automated process for analyzing and isolating cells.
Special algorithm determines cell morphology of the detected cells
To accomplish this, the institutes use a high-speed microscope to scan a cell culture plate. Based on the image data, the cell morphology of the detected cells can be determined using a specially developed algorithm. To ensure that only suitable cell material is subsequently isolated, the researchers use laser-induced forward transfer, or LIFT for short: The cell cultures are located on the cell culture plate in a special hydrogel. A laser is focused into the gel very locally under the selected cells and generates a precisely tuned amount of thermal energy. The short pulse causes the gel to expand and transfer the cells to a cell culture support above, on which they are then further cultured.
The fully automated analysis and isolation process can be easily integrated into any laboratory environment. Thanks to its modular design, it is versatile and can be used in existing microscopes. A commercially available microtiter plate, for example, is suitable as a cell carrier. This makes the process not only time-saving, but also cost-effective.
Presentation of the project at analytica in Munich
Another challenge is the transfer of adherently growing cells: "Here we are still looking for the appropriate hydrogel to improve the survival rate of the cells," says Richard Lensing, scientist in the Biofabrication Group at Fraunhofer ILT. To make the process even more efficient, researchers at Fraunhofer IPT and ILT are also working on a faster and more sophisticated algorithm that can classify and select cells based on various characteristics. Fraunhofer ILT experts will be presenting the results of their research at analytica in Munich from June 21 - 24.