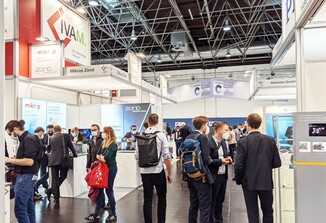 02.12.2021
COMPAMED is the world's leading marketplace for the medical supply industry. This year, the specialist area with technologies, components and system solutions was to be found in Halls 13 and 14 with around 500 exhibitors. 
Parallel to the medical technology trade fair MEDICA, COMPAMED took place in Düsseldorf, Germany from November 15 to 18 and showcased a wide range of high-tech solutions for modern diagnostics, personalized medication, non-invasive monitoring and smart therapy approaches. 
Satisfied exhibitors: expectations exceeded
This year, 42 international companies and institutes presented themselves at the largest joint booth at the trade show, organized by the IVAM Microtechnology Network. Due to the pandemic situation, some high-tech manufacturers had traveled to the trade fair in Düsseldorf with subdued expectations, but were pleasantly surprised by the number of visitors on site. A survey showed that the majority of the companies asked rated the number of visitors as good, and the quality of the trade visitors as "very good".
Optical products, solutions and processes trending
Optical components, including in particular optoelectronic devices, micro optics and optical sensors, as well as other photonics-based medical processes, were a trend at the show. This was also evident at the COMPAMED HIGH-TECH Forum in Hall 13, where both the "Lasers and Photonics Applications" session, organized through the cooperation of the photonics network EPIC, and a thematic panel discussion proved to be visitor magnets.
Faster, more digital and more reliable at the point of care
The field of mobile diagnostics has received a particular boost from the ongoing pandemic. Microfluidic processes are the key that has made it possible to turn precise diagnostics into uncomplicated rapid tests. Microfluidic components allow a large number of experiments to be carried out particularly quickly, thus massively accelerating the development speed of drugs or vaccines. 
Hybrid business initiation with Japan
Traditionally, cooperations and business initiation with Japan plays a major role in Düsseldorf. Every fall, IVAM initiates and supports activities and projects in the field of medical technology within the framework of the trade fair. Due to ongoing difficulties with international travel, these formats were implemented digitally or hybrid this year and met with lively interest.
Expected relaxation in 2022: demand already clearly noticeable
The exhibiting companies and institutes of the joint area expect a relaxed situation at COMPAMED 2022: more than 50% of the companies have already registered to participate again. Information on participation opportunities with IVAM at COMPAMED 2022 is available at https://www.ivam.de/events/compamed.