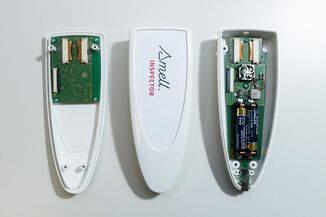 12.04.2021
Driving innovation and bringing new technologies to market maturity
Turck duotec GmbH has become a strategic investor in the deep-tech startup SmartNanotubes Technologies from Freital near Dresden, Germany, to offer further innovative technologies. The two companies are developing and industrializing an electronic nose that will enable devices and machines to 'smell' for the first time. There are numerous areas of application, which range from use in food production and medical diagnostics, to building technology and smart home solutions, including security technology.
Digital nose - an odor sensor chip based on nanomaterials
SmartNanotubes Technologies was founded in the summer of 2020 and received support from the Technology start-up fund Sachsen, TU Dresden Aktiengesellschaft and a private investor. The startup company developed an odor-sensing chip based on nanomaterials called the Smell Inspector. The world's first multi-channel gas detector chip is considerably more sensitive, smaller and more energy-efficient compared to currently available systems. 'duotec continues to strategically position itself for the future. A key element is the expansion of our portfolio of expertise through innovative and disruptive technologies,' explains Arthur Rönisch, Managing Director and CIO of duotec. 'This novel sensor technology means we're ahead of the competition by more than just a nose, literally. Together with our customers, we'll incorporate this know-how into their products.'
Industrialization of the "e-Nose 
duotec will take over the industrialization of the electronic nose developed by SmartNanotubes, which will be available from the fourth quarter of 2021. For the first time ever, it is now possible to analyze a large number of smells and volatile organic compounds (VOC) with a very small chip that is cheap to produce in high quantities. 'In our view, the electronic nose is an extraordinary technology of the future, because, with its ability to detect multiple gases at the same time, it approximates the human nose much closer than any other solution already on the market. This makes ground-breaking applications conceivable, such as the ability to diagnose serious diseases like cancer at an early stage based on a person's breath,' explains Philipp Mirliauntas, Managing Director and CSO of duotec. 'For this reason, we see the collaboration with SmartNanotubes Technologies as an ideal complement to our expertise, which will enable our customers in the future to develop their own innovative products and bring them to market, thereby giving them a competitive advantage.'
Smell Detector learns odor patterns with the help of artificial intelligence (AI)
'Smell is an important quality feature. This applies to the food production industry. However, it also plays a major role in hazard prevention and in the health sector,' adds Dr. Viktor Bezugly, CEO and Cofounder of SmartNanotubes Technologies. The nanomaterials produced by SmartNanotubes Technologies are highly sensitive and more closely approximate the sense of smell of the human nose. The developed Smell Inspector detects gases at a part-per-billion (ppb) level, making it 100 times more sensitive than technologies that are currently available. In addition, the Smell Inspector learns and detects different patterns of odor using artificial intelligence (AI). The Smell Inspector Developer Kit is compatible with both Raspberry Pi and Arduino computers and can be integrated into existing devices. It has even been implemented in a robot already. In addition, the gas detector chip can be tailored to customer-specific applications and configured for specific odor/gas combinations.
Contact: Dr. Mareike Haaß, Turck duotec GmbH
m.haass@turck-duotec.com