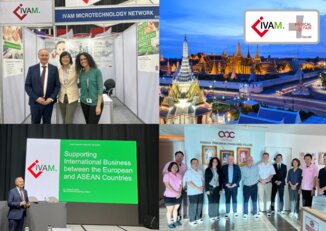 28.09.2023
The IVAM Microtechnology Network is pleased to report a highly successful debut at the Medical Fair Thailand (MFT) in Bangkok. As a leading international organization in the field of micro and nanotechnology, IVAM made its first appearance with a joint booth as part of the special exhibition area, 'Medical Manufacturing.' Three international companies participated in this premiere in Southeast Asia. The event, which took place from September 13 to 15, 2023, provided an ideal platform for international networking and showcasing medical innovations.
A Gateway to the attractive ASEAN MedTech market
Dr. Thomas Dietrich, CEO of IVAM, emphasized the significance of MFT for the high-tech industry: "Participating in the Medical Fair Thailand is highly attractive for companies in the medical technology sector. The international audience shows great interest in innovative products and services. Especially in the startup sector, many IT companies are present, introducing intelligent and innovative products. For medical technology suppliers looking to tap into the ASEAN markets, the Medical Fair Thailand serves as an ideal platform to present medical innovations."
In the lead-up to the event, a company visit to the Thai Factory of hakkai㈱ precision Thailand was warmly received. This opportunity provided insights into the outstanding local production capabilities and promoted knowledge exchange among high-tech companies.
Positive vibes in the special exhibition area and forum
The atmosphere at the fair was extremely positive, and IVAM is already planning its participation in MFT in 2025. Visitors at the booth reported active exchanges, and the IVAM session, "High-tech for Medical Devices," held during the accompanying forum, gradually drew in an interested professional audience. On-site, IVAM member companies Alleima from Sweden, Micro Systems UK, and Specialty Coating Systems from the USA presented their innovative solutions and established valuable contacts.
The successful joint booth at the Medical Fair Thailand underscores the importance of the ASEAN market for international medical technology companies. The IVAM Microtechnology Network will continue its efforts to expand its presence in Asia and is planning to participate in Bangkok again in 2025. Interested companies can now register their interest for participation.
Contact: Orkide Karasu, IVAM
ok@ivam.de