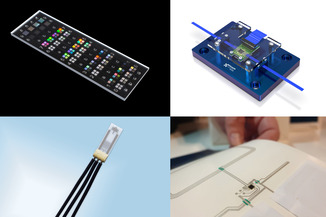 Source: IMT Masken und Teilungen AG, Innovative Sensor Technology IST AG, PIXAPP, VTT
25.11.2020
COMPAMED and MEDICA, the world's leading marketplaces for the international medical technology industry and the supplier sector, took place in a virtual format from November 16-19 due to the corona pandemic. 22 international companies and research institutions presented their product innovations in biotechnology, microfluidics, photonics and laser technology, sensor technology and microelectronics with the help of showroom presentations under the umbrella of the virtual IVAM joint participation. During the parallel matchmaking, salespersons and interested visitors were able to talk to each other via video telephony.
The IVAM Microtechnology Network presented a top class presentation program in the virtual Conference Area on all four days of the fair. The presentations could be followed by the audience either actively in a webinar or parallel in a live stream. "We received a lot of positive feedback on the forum program. The number of viewers from the webinar and stream was consistently twice as high as at the on-site presence forum. This shows us that the demand for innovations in medical technology is unbroken internationally," explains IVAM managing director Dr. Thomas Dietrich. 
COMPAMED 2021 will be held from November 15-18 in a hybrid concept consisting of a combination of live platforms for trade visitors at the Düsseldorf Exhibition Centre plus virtual offers. IVAM will again offer a joint booth with a focus on "High-tech for Medical Devices".