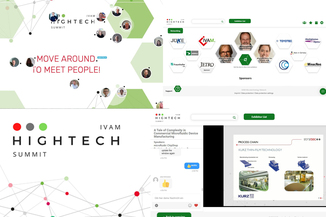 01.09.2021
Microtechnology makes a massive contribution to the further development of smart sensor technologies, biotechnologies, robotics and alternative energy concepts as well as minimally invasive, miniaturized medical technology. At the virtual IVAM Hightech Summit 2021, the international members of the networks AMA Association for Sensors and Measurement, MinacNed - Association for Microsystems and Nanotechnology, Optence - network for optical technologies, the Nano in Germany initiative and JETRO Düsseldorf - Japan External Trade Organization gathered at the invitation of the IVAM Microtechnology Network to offer a comprehensive conference program. More than 60 presentations and keynotes in nine technological sessions showed the great relevance of key technologies for industry, economy, climate protection and the health of the world population.
Microfluidics, photonics and sensor technologies in focus
Major topics this year included microfluidics, especially for biotechnological processes. The topic is currently receiving a lot of attention, certainly due to the groundbreaking developments in pandemic control, where microfluidics has massively advanced both vaccine development and testing procedures.  
Photonics, in which there are currently many important new developments - from new micro/nanostructuring methods, to use in lasers, to quantum technology - was also a much-noted topic and generated lively discussions. Integration on electronic chips also continues to advance. In addition, it was again confirmed that microtechnology plays a major role in current and future developments in medical technology.  
International program, international partners: successful business initiation  
Speakers from more than ten nations in Asia, Europe and North America informed around 250 interested parties about technological processes, products, procedures and success stories. The Japanese JETRO presented innovative Japanese high-tech companies and an export program in its own session. They were highly satisfied with the contacts they had made. The other international partner networks are also keen to continue the joint event in the future. The participants also praised the conference's digital supporting program, which consisted of a networking area, product presentations and an accompanying exhibition. In particular, the good quality of the contacts made was emphasized several times. Some companies were able to directly acquire new customers.  
"With the IVAM Hightech Summit we want to continue to show which concepts and ideas the leading minds in the industry are currently working on and what can be successfully implemented in products. Whether we will implement this again virtually or as a live event next year - due to the large international field of participants - is under discussion. What is certain is that there will be the next IVAM Hightech Summit in 2022," explains IVAM Managing Director Dr. Thomas Dietrich.