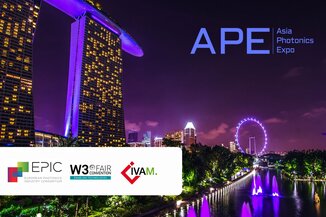 APE is the first photonics exhibition in the ASEAN region, providing an exceptional opportunity to expand your business in the fast-growing markets of Asia.
18.08.2023
Together with EPIC and W3+ Fair, the IVAM Microtechnology Network is organizing a joint booth at the new Asia Photonics Expo in Singapore. The partners thus provide interested companies from the European photonics industry with easy access to the Asian market.
APE 2024 - the Asia Photonics Expo trade show will be held for the first time at the Marina Bay Sands in Singapore from March 6 - 8, 2024. The event sees itself as a new photonics platform that aims to provide awareness and access to new business contacts in the Asian market. Thematic focal points are e.g., optical communication, innovative manufacturing, semiconductor technology, sensor technology, metrology, and medical technology. To facilitate the move to Asia and the development of new business areas for companies from Europe, the network fair W3+ Fair has joined forces with its partners IVAM and EPIC. Together, they are organizing the Photonics+ Europe powered by IVAM, EPIC & W3+ area, which offers exhibitors a range of services and networking opportunities in addition to stand presentation. 
Singapore as a gateway to the booming photonics market in Asia
APE 2024 focuses on the latest innovative technologies and emerging user markets in Asia. The event aims to promote collaboration among experts along the entire photonics value chain. Companies will benefit from the strong business location of Singapore, which is considered an international hub for Asian trade, as well as from the ease of communication in English. 
"We are very excited about this exciting move to Asia. As a success-proven team with EPIC and IVAM, we bring a lot of experience to events and networking. All exhibitors will benefit from this," Jörg Brück, Project Director of the W3+ Fair, is convinced.
Dr. Thomas Dietrich, CEO of IVAM, adds: "Southeast Asia with the emerging ASEAN nations is increasingly developing into a high-tech region. Especially in times of reorientation of markets and supply chains, Singapore offers new attractive opportunities as a HUB for the entire region. IVAM has therefore already been supporting European companies in their entry into this market for several years.''
"Working with CIOE and the team of the W3+ Fair is the perfect combination to accompany European photonics companies to access the Asian market, I am extremely excited to have a European pavilion prominently present at Asia Photonics Expo!" says Carlos Lee, Director General of EPIC – European Photonics Industry Consortium.
Registrations for the joint stand are now open. Please contact Orkide Karasu from IVAM for any questions. (ok@ivam.com)