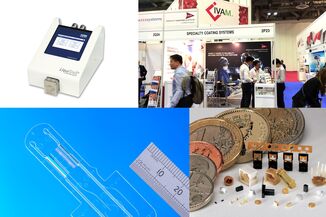 Source: HNPM, IVAM, Microsystems UK, Accumold
29.07.2022
The economies of the ASEAN countries are developing continuously well despite the Corona crisis. Singapore, with its strong economic power and important research institutions, is the engine of economic development. Activities in other Asian markets can be launched from this innovation hub.
From August 31 to September 2, 2022, Medical Manufacturing Asia (MMA) will be held in Singapore as a trade fair for suppliers parallel to Medical Fair Asia. Manufacturers and suppliers of medical manufacturing will meet on site to exchange information about current technologies and trends and to present their product innovations to the Asian market.  
Components, modules and technologies for medical technology
The main focus of the MMA is on micro- and nanotechnology innovations such as components and modules for medical technology, lab-on-a-chip technologies, measurement and testing methods, assembly and production technologies, process technology, biocompatible materials and functional coatings.
Following successful trade show appearances in 2012 through 2018, the joint booth from the IVAM Microtechnology Network will once again offer a marketplace for developers and producers of micro- and nanotechnology innovations. Highlights include company visits on August 28 and the session "High-tech for Medical Devices" at the forum accompanying the trade fair on September 1, 2022. The first IVAM Marketing Prize Asia Award will also be presented on site. Six international high-tech companies will present their innovative products and services at the joint booth.
Product highlights of MMA
Accumold is a high-tech manufacturer of precision micro molded plastic components with part geometries from 5cm to less than 1mm in size. With the pressure on design engineers to deliver smaller, lighter and more cost-effective components many are turning to micro injection molding for support. Through a series of case studies this presentation will explore the advantages micro injection molding can provide for the medical device industry. Case study examples include: pushing the limits with size, high-volume with high-quality, and an exploration of overmolded/insert molded components, including metal, mesh, fabric, glass and other fine media.
HNP Mikrosysteme offers pumps that dose smallest amounts of liquid very precisely. Five series allow dosing volumes from 0.25 µl and volume rates from 1 µl/h to 1152 ml/min. HNPM develops OEM pumps and offers compact dosing systems for analysis, research and development, for example LiquiDoS for dispensing tasks in the laboratory or µDispense for analytical instruments. Applications are laboratory automation, pharmaceutical production, medical and analytical technology, sample preparation for the determination of blood parameters or pathogens as well as flow cytometry.
MedWorld Advisors is a global boutique advisory firm specialized in small to medium companies in medical device, MedTech, DentalTech, biomed, BioTech, digital health, emerging technologies and healthcare. Located in the United States, an office in Hong Kong as well as partners around the world give the company a truly global outreach. MedWorld Advisors works closely with strategics in the industry as well as PE firms.
Microsystems UK will be exhibiting samples of microfluidic molded parts and inserts showing the quality of the micro machining which can be achieved utilising our in house micro milling machines. These inserts can be micro machined in fully hardened stainless mould steels at 48/52 Rc, using cutters as small as 50 microns diameter. Microsystems can also micro machine nickel coated mold inserts using diamond cutters for the ultimate accuracy (+/- 2 microns and surface finish of <10Nm Ra. Typically, these inserts are used to mould medical device blood analysis lab on chip components with ISO13485
Micronel AG will showcase products for all applications in mechanical ventilation, homecare and breathing therapy. The company provides worldwide, perfectly engineered miniature high-performance fan and blower solutions for demanding air pressure, vacuum and flow applications. Maximum performance in the smallest of spaces, efficient, reliable and quiet. For demanding suction, vacuum and pressure applications and especially ventilator applications with highly dynamic operating modes. The application experience and engineering competence make the company an ideal project partner for customer- specific challenges.
Specialty Coating Systems Inc. (SCS) conformal coatings offer biocompatible and lubricious surfaces, excellent moisture, chemical and dielectric barrier protection. For 5 decades, SCS conformal coatings have protected numerous medical devices and components, including stents, cardiac assist devices, electrosurgical tools, catheters, elastomeric seals, medical electronics, neurostimulation devices, and cochlear and ocular implants, to name only a few.