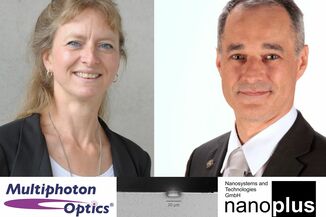 Dr. Ruth Houbertz, CEO & Managing Director of Multiphoton Optics GmbH, and Dr. Johannes Koeth, CEO of nanoplus Nanosystems and Technologies GmbH, closed the agreement to manufacture laser sources with microoptics (as pictured bottom middle).
Source: Multiphoton Optics
27.01.2020
nanoplus Nanosystems and Technologies GmbH (nanoplus) from Gerbrunn and Multiphoton Optics GmbH from Würzburg closed a production agreement to produce miniaturized optics on laser sources for IR sensor technology using MPO technology. This is the first time that the two-photon polymerization (2PP) process of pioneer MPO is used worldwide for the industrial production of miniaturized components in a pay-per-use model.
Miniaturized laser sources for infrared sensing
The lasers manufactured by nanoplus are used for high-precision measurements in industry and research. In the market for infrared sensors, the manufacturers of the sensors so far had the problem that they had to perform complex packaging and alignment steps. This increases the production costs and prevents miniaturized sensors required by the market. Multiphoton Optics' high-precision 3D printing process, also known as 3D lithography or direct laser writing, additively manufactures the required microoptics directly onto the laser facets.
"Multiphoton Optics' technology allows us to inexpensively offer miniaturized laser sources for infrared sensing. This allows our customers to save time and money and build much more compact sensors.", says Dr. Johannes Koeth, CEO of nanoplus.
From research to industrial manufacturing: two-photon polymerization
The high-precision 3D printing from Multiphoton Optics is integrated into the existing production processes of nanoplus. Dr. Ruth Houbertz, CEO and Managing Director of MPO, says: "In more than 15 years of collaboration with industrial customers, we have brought two-photon polymerization from research laboratories to practical industrial manufacturing. With our pay-per-use model, users drastically reduce their time to market, minimize their investment costs, and pay per manufactured quantities."
Contact: Veronika Loose, Multiphoton Optics GmbH