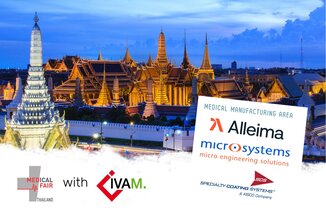 24.07.2023
The IVAM Microtechnology Network, a leading international association for high-tech companies will exhibit with its members for the first time at the renowned Medical Fair Thailand (MFT) this year. 
900 exhibitors from 50 nations will meet 12,000 trade visitors in September
From September 13-15, 2023, Medical Fair Thailand will open its doors in Bangkok, providing an excellent opportunity to network with companies in ASEAN countries. Thailand, with its emerging industry, also forms a good start for an ASEAN market entry. In particular, large government investments in the healthcare system make the market highly interesting for medical technology supplier companies. 
For the ninth time, the approximately 900 exhibitors from about 50 countries will welcome nearly 12,000 visitors at BITEC in Bangkok. Medical technology specialists will meet to exchange information on current technologies and trends and to present their product innovations to the Asian market.
New focus on the "Components and Suppliers" theme area
The topic components and suppliers is also to be established at Medical Fair Thailand. In a new special exhibition area ''Medical Manufacturing'', upstream and downstream processes in the MedTech sector will be represented, including new materials, components, intermediates, packaging and services, up to micro- and nanotechnology, testing systems and services, as well as materials, substances and components for medical technology.
International high-tech companies exhibit with IVAM
For the premiere of the joint stand in the new special exhibition area, three international member companies have registered to present their innovative products on site:
Alleima is a world-leading player in its development and manufacturing of advanced stainless steels and special alloys. In the medical field Alleima is producing ultra-fine wire and wire-based components for devices used for stimulation, sensing and transmitting signals in or outside the human body. These products are branded Exera. The company is also manufacturing precision strip for bone saws, microtome blades and orthopedic plates, ultra-fine tubes for syringes and surgical implants and offer extensive plating capabilities of parts used in medical devices. Since 2022 Alleima also offer world class nitinol instruments used in for example spinal surgery and vascular surgery, cardiology and cancer treatment.
Micro Systems (UK) Limited specializes in medical, biotech and optical molding and micro-molding solutions including manufacture of ultra precision molds, validation and molded component supply for drug delivery, medical diagnostics, bioabsorbable implants for surgery and inhalation systems. Further capabilities include ultra-precision micro machining and nano-structuring.
SCS Specialty Coating Systems is a world leader in conformal coating services and solutions, including Parylene, liquid, ALD and multi-layer technologies. SCS conformal coatings offer biocompatible and lubricious surfaces as well as excellent moisture, chemical and dielectric barrier protection for applications in the medical device, electronics, defense, aerospace and transportation industries.
Experts forum delves into technology issues
In a session entitled "High-tech for Medical Devices" which will take place at the Medical Fair Thailand Forum in the Conference Hall co-located to the trade fair, IVAM members and partners will present solutions and innovative products for the medical technology world of the future. Topics such as quality assurance, process optimization or regulatory issues for market entry in Europe and Asia will also be addressed.
For further information on the trade fair appearance, the on-site program or the general internationalization activities, please contact Orkide Karasu, ok@ivam.de of IVAM.