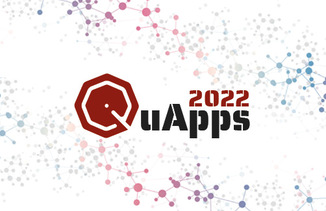 11.07.2022
Quantum technology and its applications are gaining relevance for our life day by day! The IVAM Microtechnology Network is going to give interested experts the opportunity to discover the latest advances in quantum technology and to network closely within the community again this year.  
Overview of applications of quantum technology
The 2nd International Conference on Applications of Quantum Technology "QuApps 2022" will be held on December 6-7, 2022. The Call for Poster and Presentation is open until August 19, 2022 and the conference will again be held virtually via Zoom.
QuApps 2022 will provide information on the latest trends and developments and offer the opportunity to discuss with renowned experts in the field of quantum technology. This year, the focus of the conference will be even more intensively on the application-related possibilities of the innovative developments and ideas. Among others, the following application areas will be covered:  
Medical technology
Automotive industry
Quantum computing
Cryptography  
Communication
Call for Poster and Presentation until August 19
Interested companies and research institutions that would like to present their current products, developments or projects at QuApps2022 can still register for a talk or a contribution to the poster session until August 19, 2022.  
For more information, visit https://quapps-conference.com/submit-abstract/.
Contact: Dr. Victoria Jakobi, IVAM
quapps@ivam.com