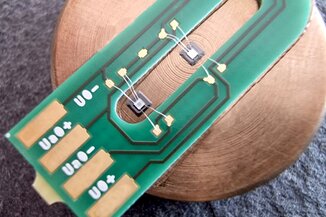 Silicon strain gauge sensors were joined with glass frit on a steel spring body. The sensor elements are electrically connected to the PCB by wire bonding
Source: CiS
10.10.2023
The measurement of the mechanical quantities force, pressure as well as mechanical stress is important for various applications in the medical environment. For example, the mechanical loads of prostheses and orthoses can be monitored or the wear of medical devices can be recorded directly. 
Silicon sensor elements based on MEMS technologies offer multiple advantages over conventional sensor technologies in terms of accuracy, long-term stability, miniaturization and cost efficiency. 
Advantages in terms of signal evaluation and sensor placement
In addition to piezoresistive pressure sensors, a portfolio of Si strain gauges has been developed at CiS, which have significantly higher K-factors compared to metal strain gauges, offering advantages in terms of signal evaluation and sensor placement. In addition to these sensors, suitable technology for assembly and interconnection has been developed, which enables the mounting and contacting of the sensor elements on a variety of components with long-term stability (metallic, ceramic, etc.). 
The CiS Research Institute for Microsensors researches, develops and manufactures silicon-based sensors for a wide range of applications. Its 30 years of expertise has been and continues to be a success factor for numerous customised development projects for partners from industry, medicine and research. 
In addition to customer-specific development, CiS also offers the production of prototypes up to small series as well as development and transfer services for the integration of the sensor assembly into customer-specific medical products and applications.
Contact: Dr. Klaus Ettrich, kettrich@cismst.de
Hall 8a, booth H23.4
Development and Prototyping of MEMS and MOEMS
Silicon based Sensor Technologies
Microsystem Technologies