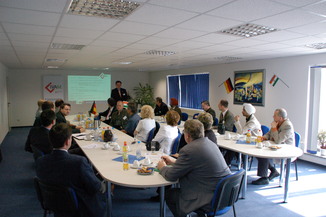 B2B events
The main focus of Health Business Connect is furthering cooperation between component manufacturers and medical device manufacturers from Germany, France and other countries. In addition to organized business meetings, the program includes keynote lectures, company visits and a networking dinner.
Business meetings at trade shows
At trade shows with large supply markets such as COMPAMED, IVAM organizes B2B meetings between exhibitors at the IVAM joint pavilion and international companies exhibiting in the environment.
Workshops
 
Market development workshops
The market development workshops inform about business opportunities in countries like the USA, Japan, China, Singapore or Brazil, about market developments in the respective countries, about framework conditions such as licensing, customs and contract law or funding programs. They also address intercultural topics.
Industry meetings
 
International industry meetings
The international industry meetings enable high-tech companies operating in Japan or intending to do so to share experiences and discuss industry-specific issues. Manufacturers, suppliers, research institutions and users are invited to do so in an informal atmosphere and to establish and intensify contacts.
Being host of a RoundTable, IVAM member companies have the opportunity to invite other members and further high-tech companies to meet on-site, in their own facilities. This way, the host can present his company, the participants get to know each other and have the opportunity to establish or strengthen contacts in the region. 
The IVAM focus groups facilitate networking and enable a continuous exchange of information on important topics in micro- and nanotechnology. They provide a platform for IVAM's members and interested third parties to share their experience on current events and activities as well as facilitate coordination of joint activities.