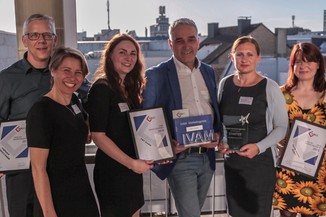 Michael Kneier and Sandra Chudek from eagleyard Photonics, Christina Jede and Dr. Thomas Fries from FRT, Monika Lelonek from SmartMembranes and Dr. Mareike Haaß from TURCK duotec. (from left to right)
Source: IVAM
20.04.2018
FRT GmbH from Bergisch Gladbach, Germany and SmartMembranes GmbH from Halle/Saale, Germany are winner of the IVAM Marketing Prize 2018. FRT GmbH was awarded the 10
th
IVAM Marketing Prize on April 19 in Dortmund, SmartMembranes GmbH received a special award within the newly created category "starter".
FRT, expert for 3D surface measurement, submitted the comprehensive relaunch concept "FRT RelaunchYear", which included a redesign and a new concept for website, logo and trade fair booth. The extended online marketing strategy introduced special hashtags, a company blog and a mascot. The jury was impressed by the extensive measures and praised the target group orientation as well as the perfect integration into the corporate strategy of the medium-sized company.
The nanotechnology company SmartMembranes, manufacturer of porous, highly graded materials made of aluminum oxide and silicon, was awarded in the special category "starter". With that newly created category, the jury wanted to honor the special marketing requirements of a product launch. The young company faced the challenge of introducing a new product on the market with only a small marketing budget and limited human resources. As part of a comprehensive strategic analysis, a marketing and sales concept was developed by identifying and prioritizing target markets and customers based on global megatrends. The jury appreciated the extensive, strategic groundwork and the simultaneous implementation into the daily business.
Altogether nine international high-tech companies have applied for the award with their marketing concepts. This year, the jury nominated four finalists from the pool of applications. Besides FRT GmbH and SmartMembranes GmbH, the two other finalists for the 10
th
IVAM Marketing Prize were eagleyard Photonics GmbH from Berlin, Germany and Turck duotec GmbH from Halver, Germany.
The jury, consisting of microtechnology and marketing experts,  judged by rating criteria like creativity, innovation, aesthetics, informative content, relevance, originality and the strategic, technical and target-group-specific approach. This years' jury members were Simone Herrmann from TechnologieZentrumDortmund, Claudia Pejas from Impulswerk Videoagentur, Markus Rall from viality e.K, Markus Thamm from Salcon International, and Dr. Ernst-Rudolf Weidlich from GRT GmbH & Co.KG.
The award presentation took place on April 19, 2018 subsequent to the IVAM High-Tech Summit conference and the General Meeting of the IVAM Microtechnology Network in Dortmund, Germany