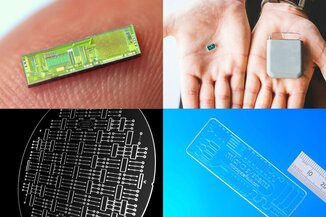 The joint booth of the IVAM Microtechnology Network shows various innovations for medical technology.
Source: Fraunhofer IMS, SCHOTT, IMT AG, Micro Systems UK Ltd.
30.01.2023
MD&M West in Anaheim is one of the largest international showcases for design and manufacturing in medical technology. Around 20,000 visitors come to California every year to find out about new trends in the medtech industry. For international component manufacturers, the medical technology marketplace has become a fixed date in the trade show calendar due to the high internationality and quality of the trade audience.
Special exhibition area "Micro Nanotech" in Hall C features microtechnology innovations
The joint booth of the IVAM Microtechnology Network is branded as a special exhibition area "Micro Nanotech" in hall C. There, European high-tech companies and research institutes will present their innovations from February 7-9, 2023.
AEMtec GmbH offers technologies for complex, customer-specific (opto)electronic applications for medical technology. The company has an extensive portfolio of high-end chip-level technologies, including wafer back-end services, chip-on-board, flip-chip, 3-D integration and opto-packaging for medical technology. The company's range of services includes development services as well as test equipment production and volume manufacturing capabilities.
CorTec enables communication with the nervous system – for the cure of disease. The Brain Interchange technology is an implantable system that records and stimulates brain activity chronically for long-term use. As a closed-loop system, it can control stimulation online based on brain activity recorded simultaneously. In addition, CorTec is providing single individual components like flexible electrodes or high-channel encapsulations together with electronics and software. They are characterized by the same set of features: high precision, high flexibility in design, high number of channels.
The Fraunhofer IMS presents smart sensor systems for upcoming medical device generations. The main topics range from active implants to in-situ diagnostics and non-invasive healthcare applications. Prominent products are e.g. energy-efficient pressure sensors which show a unique long-term stability and high accuracy and are used in several CE-approved implants. One of further product examples is a smart patch that detects atrial fibrillation directly on the patient with the artificial intelligence of miniaturized electronics.
IMT Masken und Teilungen develops and produces large volumes of consumables, custom-made microfluidic devices, optical components and sensors in glass and quartz. IMTs capabilities are structured metallic and dielectric coatings, etching of channels and nanopatterns, integration of on-chip electrodes, waveguides, optical filters and apertures for applications like sequencing, Lab-on-a-Chip, Organ-on-a-Chip, Single Cell Detection & Analysis, HTS, Microarrays, glass components for medical instruments and equipment.
Micro Systems (UK) Limited specializes in medical, biotech and optical micro-molding solutions including molds, validation and component supply for drug delivery, medical diagnostics, inhalation systems and bioabsorbable implants for surgery. Further capabilities include ultra-precision micro machining and nano-structuring. At MD&M the company will be presenting Lab-On-A-Chip and micro molded components with micron tolerances and accuracies, components molded in complex materials and optical parts with nanometer levels of surface finish.
SCHOTT manufactures hermetic housings and feedthroughs for the protection of sensitive electronics in harsh environments. With over 80 years of expertise in hermetic sealing using specialty glass, SCHOTT supports medical applications with reliable components for a variety of uses. Offerings include: SCHOTT Primoceler glass micro bonding and HermeS wafers for miniaturized wafer-level chip scale packaging and implants, hermetic connectors for surgical devices, autoclavable Solidur LEDs.
Screentec is a Finnish contract development and manufacturing organization (CDMO). It is specialized in the manufacturing of disposable medical electrodes, wearables, flexible printed sensors, flexible hybrid electronics (FHE) and membrane switches. Also, microfluidics for diagnostic tests and other disposable tests can be produced. The portfolio includes contract manufacturing services and manufacturing process development of professional electronics and medical devices subassemblies as well as non-implantable active medical devices.